RAMP Members Working for the Community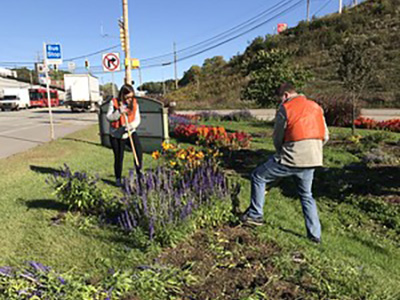 Our members have been volunteering to support the community. On October 8th, the Community Service Committee sent a team of volunteers to the community flower bed at the intersection of McIntire Rooad and McKnight Road, just outside of the Block at Northway shopping area. This flower garden is maintained by volunteers in conjunction with the Western Pennsylvania Conservancy. The Conservancy maintains over 130 community gardens and greenspace in our region. It was time to clear the vegetation and remnants to prepare for the winter months. Thanks to Max Lieberth, Hollie Hooper, Emily Platts, Stacy Reis and Jeff Zirngibl for their work.
Click on the photo below to see additional photos from the project.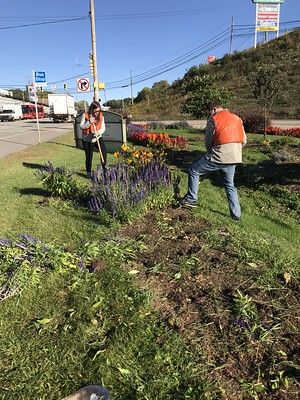 On October 16th, a group of volunteers headed to Pittsburgh north side to the Light of Life Mission's Donation Center. At this location, we spent three hours going through boxes of donated clothing that needed sort, folded, and placed on the shelves of the donation center's store for their clients.
The committee was surprised to see a box of t-shirts that included the logo of the 1996 Summer Olympics that were held in Atlanta. Apparently, a television production filmed in Pittsburgh this past summer and part of the show tells the story of the bombing that took place during the 1996 Olympics. The production company donated the shirts along with other cast wardrobe from their time spent in Pittsburgh.
Thanks to the following committee members for their time and efforts: Jason Corna, Hollie Hooper, Preston Moore, Max Lieberth, Bob Moncavage, Dawn Parasolick, Jeff Zirngibl, and John Petrack.
Click on the photo below to see more from the project: