Commercial Market Insights – February 2022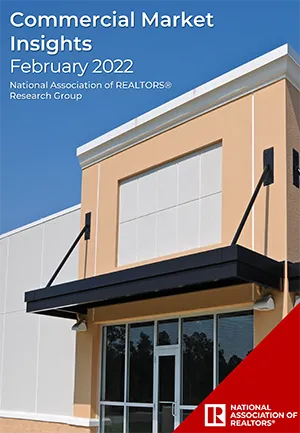 From the National Association of REALTORS®:
The recovery in the commercial real estate market that started in the second half of 2021 is continuing into the first quarter of 2022. All core commercial sectors ― multifamily, office, industrial, and retail ― experienced net positive absorption during the last three months through February. As such, rents and property valuations continue to increase across the four core property markets.
Download the full report. (PDF: 2.95 MB)

On March 30, 2022, from 2:00–3:00 p.m. Eastern, NAR will hold its virtual Real Estate Forecast Summit: Commercial Update event, which will provide an outlook on the changing commercial real estate market.
A recording of the event will be made available to REALTORS® as a value-added resource to be used in discussing and strategizing about the market with clients. Registered attendees will receive an email with a link to the recording as soon as it is available. The recording will also be posted on nar.realtor and on NAR's Research social media account pages.